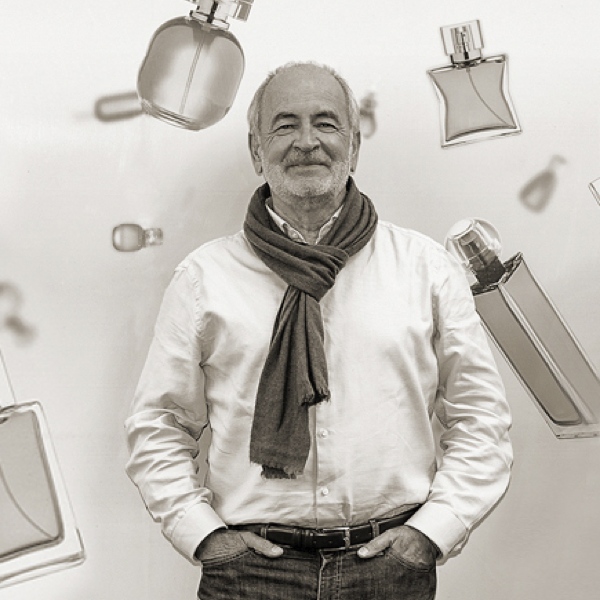 In the heights of Nice, in an exceptional setting above the Parc du Vinaigrier, close to the Observatoire de la Côte d'Azur, is the key to the success of Coverpla, the French specialist in customised premium packaging. Bathed in Mediterranean sunshine, the historic premises and production lines are undergoing a complete overhaul! "Since 2022, we have been investing heavily in modernising our site and our industrial facilities," explains Bruno Diépois, CEO of the company he bought in 2010.
An original business model
Coverpla is much more than a distributor of standard primary packaging. "We operate according to an original model, which consists of having a large stock of high-quality components – glass bottles and jars, caps and pumps – which we pick and choose from to meet our customers' requirements. We then proceed with the decoration and all the customisation stages," continues the CEO.
It's a bold strategy, as it involves significant capital investment, but on the whole, it provides a remarkable degree of agility, ensuring that orders ranging from a few dozen units to tens of thousands or more can be processed to very tight deadlines and high-quality standards.
Although Coverpla creates many of its designs, the manufacture of glass bottles and jars is outsourced to European manufacturers [1]. Perfume caps, on the other hand, are mostly produced in-house, (95%) mostly from Surlyn. Models in zamak and wood are sourced via specialised partners, while the injection workshop tests different bio-sourced resins.
In addition to extensive warehousing activities, the Nice site houses three industrial units: cap injection; decoration (screen printing, pad printing, hot stamping); and assembly (cutting and fitting of pumps and metal covers for the caps).
The production of 6 and 7 million parts a year (for a capacity of 8 million) today accounts for 30% of the company's sales. Current investments (€1.2 m over the next three years) are aimed at streamlining flows in the various workshops and modernising the equipment.
The art of customisation
Coverpla boasts a catalogue of 156 families of glass bottles [2] and jars and around 130 cap designs, of which around a hundred are exclusive. This vast range gives customers a dual power of personalisation, based on almost infinite mix & match possibilities and multiple decoration options. This flexibility allows brands to create unique packaging that reflects their identity and vision, even for small quantities.
Bottle and cap designs are created in-house, with all teams participating. For their decoration, Coverpla has six screen-printing lines capable of working on glass, aluminium, Surlyn, zamak or wood. Semi-automatic lines are used to process small and medium-sized runs, while an automatic line processes orders of more than 10,000 units or multi-passes.
Thanks to its assembly capabilities, Coverpla can also customise the dip tubes of crimped pumps to suit the bottle format. Screw pumps are delivered pre-assembled with standard tubes that are resized to order.
Towards carbon neutrality
Coverpla has also won over its customers by placing sustainability at the heart of its strategic approach. The company has reduced its electricity consumption by investing in new, more efficient machines, and is aiming to make its activities carbon-neutral by 2025. This will be achieved through the purchase of green electricity and compensatory measures. The installation of photovoltaic panels, which could supply 15-20% of the electricity used on the site, is also under consideration.
On the product side, in addition to developing lightweight glass bottles, Coverpla's technical expertise in Surlyn has enabled the company to incorporate a percentage of recycled PIR material in all its caps, without compromising on quality. The company is also exploring the use of sustainable materials, such as Sulapac or Natureplast.
As far as decoration is concerned, enamels are gradually being phased out in favour of organic inks and UV-curing inks, which are less harmful and use less energy. Generally speaking, the company is constantly evaluating new technological options.
A robust international presence
These strategic investments have enabled Coverpla to establish itself as the leader in packaging for perfume indie brands in France, which remains its core market, accounting for 35% of sales. However, the company has also significantly expanded its international footprint, with subsidiaries in the US and Italy and a widespread network of distributors.
In 2016, the creation of Coverpla Inc. strengthened the company's position in the US market, after several years of intensive commercial presence. Less driven by the fragrance category and more focused on trading, the business of the New Jersey-based subsidiary is growing strongly. Coverpla Inc. has its own stock and performs customisation operations on a sub-contracting basis. However, there are plans to bring the business in-house, possibly through an acquisition.
With sales growing rapidly, and expected to reach more than €26 m in 2023, Coverpla is looking to the future with confidence. "We are evaluating the possibility of an acquisition in the injection or decoration sector, in North America or Europe," says Bruno Diépois.